Have been browsing around the net a few months after free knitting patterns and have found lots and lots of them. Since I'm one of those admin geeks, I've printed out many of them and put them in different maps and that kind of things.
And as if that wasn't enough I've visited loads of knit blogs, in my search for these freebies, and been introduced to wonderful knitting books that I also want to lay my hands on. So a few days ago I decided to decrease my knit book wish list, I selected four books, but felt I needed to make a thorough price comparison among relevant book stores on the net:
saveoncrafts
, Amazon UK, Amazon US,
Akademibokhandeln
(Swedish),
Bokus
(Swedish) and
Adlibris
(Swedish). Ordering from abroad felt to complicated to me with customs costs etc so amongst the swedish net stores Akademibokhandeln had the best total price!
However, today I collected my first knit book parcel from my local grocery store, it's also my local post office, containing "Simple knits for little cherubs" by Erika Knight.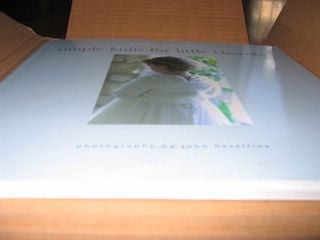 I dig beautiful knitting pattern books!
I found a beautiful jeans pinafore pattern in this book which I want to knit for my daughter!